Description
VOOPOO DRAG E60 Pod Mod Kit
Check out the VOOPOO Drag E60 Pod Mod Kit, featuring a 4.5mL PnP 2 pod capacity, integrated 2550mAh battery, and delivers up to 60W maximum output. Powered by the GENE TT 2.0 Chipset, the Voopoo Drag E60 Pod Mod Kit is capable of delivering up to 60W of maximum output. Blending elements of zinc, aluminum, and leather, the Drag E60 Pod Kit is a luxurious performance vaping mod, delivering large clouds of vapor while maintaining a high degree of visually striking appeal. Christened with the new PnP 2 Pod, the Drag E60 is compatible with all PnP coils, and presents the new TW-20 and TW-30 coils from the PnP Coil Series.
VOOPOO Drag E60 Pod Mod Kit Features:
GENE.TT 2.0 Chipset
Dimensions: 94mm by 24.9mm by 46mm
Battery Capacity: 2550mAh
Wattage Range: 5-60W
Voltage Range: 3.2-4.2
Resistance Range: 0.1-3.0ohm
Power Modes: Smart, RBA, ECO
Chassis Material: Zinc & Aluminum Alloy
Pod Capacity: 4.5mL
Fill System: Top-Fill – Quarter Turn Removeable Cap
Compatible with All PnP Coils
Intuitive Firing Button
OLED Display Screen
Two Adjustment Buttons
Chassis-Based Adjustable Airflow Control
Magnetic Pod Connection
Overtime Protection
Output Over-Current Protection
Low Battery Protection
Over Heated Protection
Overcharge Protection
Short-Circuit Protection
Charging Port: USB Type-C
Includes:
1 VOOPOO Drag E60 Device
1 VOOPOO PnP Pod 2
1 0.2ohm PnP-TW20
1 0.3ohm PnP-TW30
1 Type-C Cable
1 User Manual
Make sure to properly prime each coils and pods before use.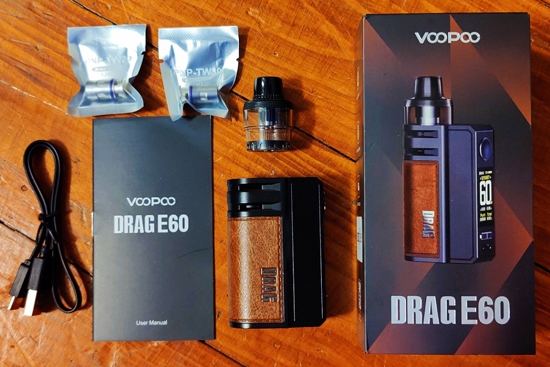 🔗 Si Omar Vape Store | FB Si Omar Vape Store | Instagram Si Omar Vape Store