Description
VOOPOO DORIC 60 Pod Kit
The VOOPOO DORIC 60 Pod Kit is designed to be easy to use. Making it the ideal introduction to sub ohm vaping. It has a powerful 2500mAh battery built into it, so even when set to the 60W maximum output you can vape for longer. This kit comes with a VooPoo PnP pod and two matching coils. No matter which of the included VooPoo PnP coils are chosen, it'll deliver a DTL (Direct To Lung) inhale. However, there are other coils available from the same range if you want to experiment.
Features:
Sub Ohm Pod Kit
5 – 60W Output
2500mAh Built-In Battery
DTL Vaping
Button Or Inhale Activated
2ml Pod Tank
Mesh Coils
To activate the VOOPOO DORIC 60 Pod Kit, you can press the button or simply use the inhale activation feature once it's turned on. This intuitive feature means you can inhale on the mouthpiece to activate your kit with ease. However you decide to use your kit, it'll create a DTL inhale with a larger amount of vapour. If you want to experiment with other vape styles, the PnP range offers many options including MTL (Mouth To Lung) coils. It detects which coil has been inserted and sets the optimal output automatically, saving you having to figure out wattages.
The VooPoo PnP pod is easily filled by turning it upside down and unplugging the silicone stopper from the bottom. Both of the included coils feature a mesh design, which heats up your chosen e-liquid faster and delivers an improved flavour. The 0.3 Ohm version will create a little less vapour than the 0.2 Ohm coil, but we'd recommend that a high VG e-liquid is used with either one. Also, the adjustable airflow allows you to choose a tighter or looser draw, so you can find an inhale that feels right.
Contains:
VooPoo Doric 60 Vape Device
VooPoo PnP Pod
0.2 Ohm VooPoo PnP VM5 Coil
0.3 Ohm VooPoo PnP VM1 Coil
USB-C Charging Cable
User Manual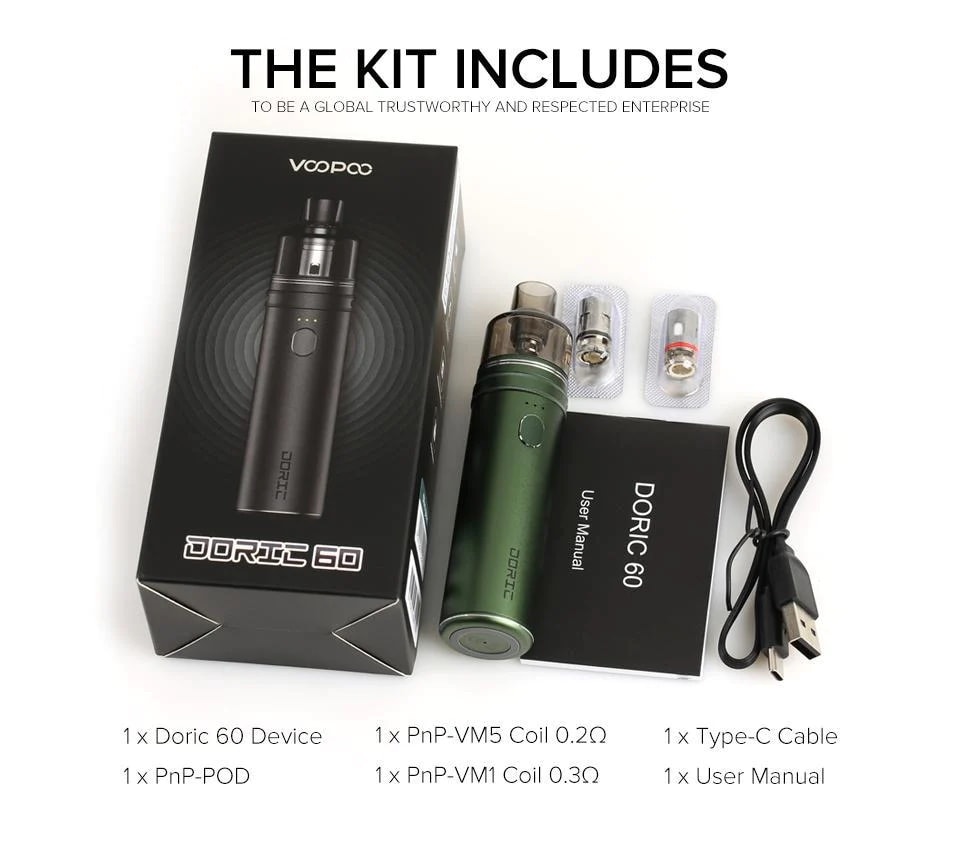 🔗 Si Omar Vape Store | FB Si Omar Vape Store | Instagram Si Omar Vape Store