Description
ON – MA01-AMS
CASE: 46MM SOLID ALUMINUM
BAND: 22MM STAINLESS STEEL
DISPLAY: IPS , 1.3 INCH HD
BATTERY: UP TO 3 DAYS DEPENDS ON USAGE
APP: FUNDO HEALTH ( IOS – ANDROID – APP GALLERY )
CALLS: ANSWER AND MAKE CALLS ON THE WATCH.
NOTIFIER: GET ALL NOTIFICATIONS ON THE WATCH.
HEALTH: HEART RATE MONITOR, SLEEP MONITOR, BLOOD PRESSURE, OXYGEN, ECG
MOVE: PEDOMETER, MULTI-SPORTS PROGRAMS
PHONE ANTI-LOST, PHONE CAMERA CONNECTED, BT MUSIC
الهيكل: 46 مم من الألومنيوم الصلب
النطاق: 22 مللي متر من الفولاذ المقاوم للصدأ
الشاشة: IPS ، 1.3 بوصة HD
البطارية: حتى 3 أيام تعتمد على الاستخدام
التطبيق: FUNDO HEALTH (IOS – ANDROID – APP GALLERY)
المكالمات: أجب واتصل بالمكالمات على الساعة.
المُخطِر: احصل على جميع الإخطارات على الساعة.
الصحة: ​​جهاز مراقبة معدل ضربات القلب ، ومراقبة النوم ، وضغط الدم ، والأكسجين ، وتخطيط القلب الحركة: عداد السرعة ، برامج متعددة الرياضات حماية الهاتف من الضياع ، وكاميرا الهاتف متصلة ، وموسيقى BT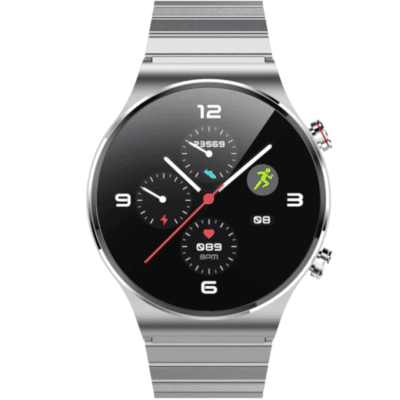 🔗 Si Omar Vape Store | FB Si Omar Vape Store | Instagram Si Omar Vape Store